BEST BOOKS FOR HEALTHY LIVING
When it comes to books on health, these are classics. Whether it's the Medical Medium series by Anthony William, exposing health truths never heard of before, or The 80/10/10 Diet by Doug Graham, your sure to find something you'll enjoy.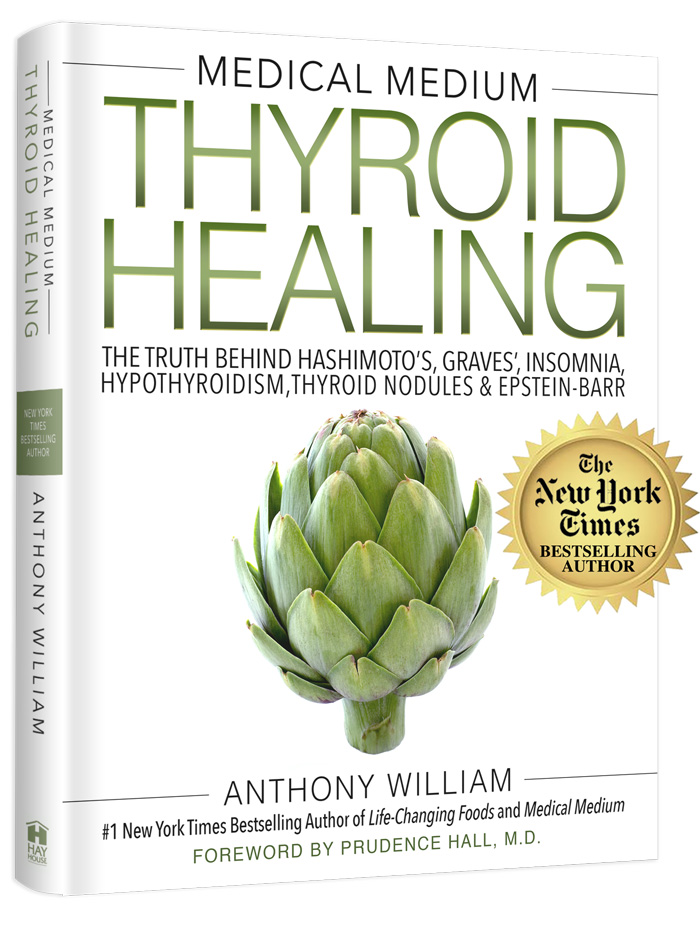 Empowering readers to become their own thyroid experts, Anthony explains in detail what the source problem really is and provides a life-changing toolkit and 90-day plan to rescue the thyroid and bring readers back to health and vitality. Anthony also reveals the five great mistakes holding you and your loved ones back from healing, including the still undiscovered truth about autoimmune disease and inflammation. It's an approach unlike any other, and as his millions of fans and followers will tell you, it's the approach that gets results. Includes photos and recipes.
Anthony William (NY Times Best Selling Author)
Life-Changing Foods delves deep into the healing powers of over 50 foods—fruits, vegetables, herbs and spices, and wild foods—explaining each food's properties, the symptoms and conditions it can help relieve or heal, and the emotional and spiritual benefits it brings. I also arm you with the truth about some of the most misunderstood topics in health: fertility; inflammation and autoimmune disorders; the brain-gut connection; foods, fads, and trends that can harm our well-being; how angels play a role in our survival, and much more. This is new information I am bringing to you for the first time.
Anthony William (NY Times Best Selling Author)
If you were ill and doctors couldn't help you, would you have 20 years to wait before medical science discovered the true cause of your suffering and the way to get better? What would it be worth if someone could help you recover and heal—right now? Medical Medium explores all-natural solutions for dozens of the illnesses that plague us, including Lyme disease, fibromyalgia, adrenal fatigue, chronic fatigue syndrome, hormonal imbalances, Hashimoto's disease, multiple sclerosis, depression, neurological conditions, chronic inflammation, autoimmune disease, blood sugar imbalances, colitis and other digestive disorders, and more.
Anthony William (NY Times Best Selling Author)
A student of Dr. Ann Wigmore and Viktoras Kulvinskas, Karyn Calabrese used raw food and detoxification to heal herself from illness, fatigue, and allergies. Soak Your Nuts: Cleansing with Karyn, features her Nature's Healing System, a 28-day program that has helped thousands of her students overcome weight issues, skin problems, fibromyalgia, insulin dependence, insomnia, sinusitis, and countless other health problems. The program is designed to counter the effects of exposure to chemicals, other environmental pollutants, and stress; restore the body s balance; and revive its ability to rejuvenate naturally. Instead of dieting and counting calories, readers will learn how to use a raw natural diet, juicing, fasting, and internal cleansing to gain a new awareness of total body health.
Karyn Calabrese
The Fully Raw Diet offers a 21-day plan to help people enjoy a clean, plant-based, healthful approach to eating. Kristina Carrillo-Bucaram transformed her own health by eating vegetables, fruits, nuts, and seeds—100% fresh, raw, and ripe—and she is now the vivacious, uber-healthy founder of the FullyRaw brand. Her ten-year success with this lifestyle inspires thousands via social media, and her 21-day FullyRaw Video Challenge on YouTube in 2014 dramatically grew her fan base. This book shares her advice and will correspond to a new video challenge, with meal and exercise tips, recipes, and vivid photos. Fans will love the smoothies, salads, main dishes, and desserts, such as Lemon-Ginger Blast, Spicy Mango Basil Salad, Yellow Squash Fettuccine Alfredo, Melon Pops, and Caramel-Apple Cups.
Kristina Carrillo-Bucaram
After more than 5 years of intensive work the definitive guide to the 80/10/10 Diet is here! Get your hands on the latest book by Dr. Douglas Graham, The 80/10/10 Diet: Balancing Your Health, Your Weight, and Your Life One Luscious Bite at a Time. If you have struggled with staying raw, would like to lose weight, or change your life for the better, look no further than this groundbreaking book.
Dr. Douglas Graham